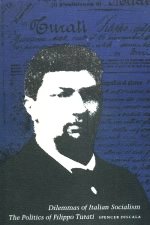 Dilemmas of Italian Socialism: The Politics of Filippo Turati (UMass, 1980)
In doing research for his first book, Di Scala tried to "rehabilitate" the founder of the Italian Socialist Party (PSI). Filippo Turati founded the PSI along with his companion Anna Kuliscioff and other friends in 1892, but after his death was denigrated by historic leaders of the Italian Communist Party (PCI), particularly by its secretary Palmiro Togliatti in a very effective campaign of vituperation. Yet, Turati's policies and predictions turned out to be prescient and the country lost seventy-five years, passing through many tragic events before leftists admitted that Turati had been correct and attempting to adopt "reformism."
Many of the dilemmas that faced Western Marxists following World War II also arose during the early years of the PSI. In the period between its founding in 1892 and the outbreak of the First World War, the PSI was deeply divided over whether socialism could best be achieved by revolution or reform, political intransigence or cooperation, labor militancy or an emphasis on production. These issues emerge forcefully in this, the first full-length study to appear on Turati in English. Turati was a proponent of the idea that a strong liberal democracy was a prerequisite for socialism.
This book makes extensive use of such primary sources as Party records, letters, pamphlets, newspapers, and Parliamentary debates, and analyses Turati's ideology and politics in the context of the history of the PSI and Italy during the turbulent era of Giovanni Giolitti. It details Turati's consistent efforts to bring about socio-economic reform in Italy in a democratic context, and his skillful political maneuvering in the face of attacks from both right and left wing elements within the PSI. In addition to showing the role of Turati and the PSI in the development of a liberal democracy, the book reveals the limit of the Socialist role—limits that resulted from a failure to reconcile the ideological splits within the Party and that rendered the socialists unable to tap their great popular support and, ultimately, made them powerless to stop the rise of Italian fascism.
Praise for Dilemmas of Italian Socialism
"Spencer Di Scala is an impassioned and thoroughly informed Italian specialist who is a scholar of the Giolitti era and Marxism. Editor of the Italian Quarterly between 1974 and 1978, Di Scala demonstrates a profound understanding of the Italian scene and social climate." —Giovanni Spadolini, "Berlinguer Has a Master: Turati," in La Stampa. Tutto Libri, January 10, 1981
The book was widely reviewed in American, Italian, British, and Dutch historical journals.
***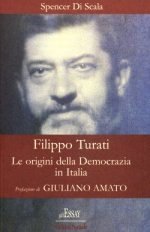 Filippo Turati. Le origini della Democrazia in Italia (Critica Sociale, 2007)
Because Dilemmas of Italian Socialism was so controversial, it did not receive an Italian translation until 2007. Di Scala updated the book and added a long introduction in which he placed Turati's ideology within the Italian political context and the book in the context of Italian historiography. The book appeared with a long preface by Giuliano Amato, professor in Italian and American universities, twice Prime Minister, Vice-President of the European Constitutional Convention, and Minister of the Interior.
Even though it had taken a long time for the book to be published in Italian, it received a great deal of attention because Turati's ideas were still relevant. There were seminars on the work, in which Di Scala participated, in the Italian Senate and Chamber of Deputies, television coverage and, above all, press coverage. The debate in the Italian press included long articles in La Repubblica, Il Corriere della Sera, L'Unita`, L'Avanti, Il Riformista, and Critica Sociale. Even after many years, the book was still timely and had not lost its capacity to shock.
From Giuliano Amato's Preface: "Ma forse ha ragione Spencer Di Scala nel pensare che quel giudizio cosi` distruttivo e senz'appello [of the Communists], ancorche` abbandonato negli anni successivi alla furibonda stagione (la stagione del 'socialfascismo') in cui venne espresso, abbia lasciato tuttavia una traccia nella freddezza di tanta parte della sinistra italiana davanti a Turati. Ed anche per questo e` piu` che giusto e tempestivo il contributo che egli ci offre per la riscoperta di chi ha titolo di essere considerato, se non il padre del riformismo italiano, di sicuro il suo primo vero leader politico." —Giuliano Amato, "Prefazione," p. 9

When his book on Filippo Turati appeared in Italy, a national debate took place on reformism and its principal theoretician, Turati himself, in important newspapers including La Repubblica, L'Unita`, and Avanti!, and in the Italian Parliament, the radio, and TV. While the three newspapers mentioned published major articles supporting Di Scala's viewpoint, an article in the Corriere della Sera argued that present-day Italian leaders should not follow Turati's policies because he should have broken with the Socialist left wing before he did because, had he done so, the Socialist Party might have been able to prevent the coming of Mussolini to power. Here you have an image of Di Scala's rebuttal, which appeared in the same newspaper and showed images of Turati, his partner Anna Kuliscioff, and other leaders. In his response, Di Scala pointed out the article's lack of relevance to his book's argument. Had Turati broken with the Socialist left wing in 1919, when it had a majority in the party because of the influence of the Bolshevik Revolution, his reformist faction would have been isolated and powerless. The theme of Di Scala's book is that Turati's reformism was a modern movement that the Communists (heirs of the Socialist left wing) crushed, with Bolshevik support, that their attack on him aided the rise of fascism, that they "erased" Turati from history despite the fact that he was correct, that their policies damaged the country after World War II, and that while after eighty years the Italian left now pays lip service to his tradition it does not implement his ideas. Until the Italian left openly admits that it unfairly denigrated Turati, accepts his tradition, and updates and implements his principles, it will remain on the margins and continue hurting itself and the country.

La Repubblica, Italy's largest circulation newspaper, devoted an entire page to Di Scala's book Filippo Turati.