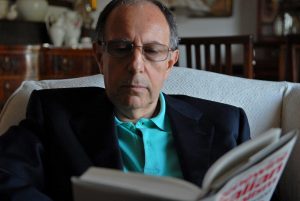 Spencer M. Di Scala was born on the lower east side of Manhattan and grew up there and in Queens, New York. He received his B.A. from Queens College (CUNY), New York's public university. His M.A. and Ph.D. degrees are from Columbia University, where he studied under Shepard B. Clough, A. William Salomone, Peter Gay, Garrett Mattingly, and Eric Goldman. As a graduate student he was awarded two Fulbright grants to Milan, Italy to do research on his dissertation, which later became his first book; and as a professor he won a Senior Fulbright fellowship to Rome to research his second book. Di Scala started teaching at the University of Kentucky and came to UMass Boston in 1970. He has been a full professor since 1986, and in 1997 the university named him research professor. In 2011, he was visiting professor at the Free University in Rome (LUISS) and later in the same year at the University of Rome.
Di Scala's teaching and writing has centered on the history of Italy, with a particular focus on modern Italian Socialism, from which he has branched out into the general history of Italy and modern Europe, to political thought, and to Italian-American subjects. He has taught a range of courses from Western Civilization to advanced courses in Italian and European history of the nineteenth and twentieth centuries, and graduate courses on a variety of specialized topics. In 1995 he was named Commendatore (Commander) in the Order of Merit of the Italian Republic for his scholarly activities. Di Scala introduced online courses to the history department in 2003 and regularly teaches online and face-to-face courses. In 2006 he won the New England University Continuing Education Association's Award for innovation in teaching and in 2007 UCEA's National Award for Excellence in Teaching.
He has published ten books and over 250 articles in scholarly journals, newspapers, and magazines in the United States and Italy and has served on the editorial boards of scholarly reviews in both countries. His research has ranged from the history of Italian socialism with a book on Filippo Turati, one of its major founders, to the intellectual history of Europe from the early nineteenth century to 1989, to the political, social, and cultural history of Europe in the twentieth century. He has given many papers and has organized conferences for scholarly organizations in the United States and Italy, including sessions at the American Historical Association and an international symposium at the John F. Kennedy Library in 1993. He has been invited to present his books, some of which have been translated into Italian and Lithuanian, in both the Italian Senate and the Chamber of Deputies.
In addition to his scholarly achievements, Professor Di Scala has worked closely with the Italian community of Greater Boston. He published articles and reviews for the Dante Newsletter and has given many lectures at associations such as the Dante Alighieri Society and the Pirandello Lyceum. In the past he has arranged visits by prominent Italian politicians such as former Prime Minister Giuliano Amato to Boston to participate in conferences. In the spring of 2009, he organized a conference of the Dante Alighieri societies of North America to discuss Italian language teaching, particularly the innovative PLIDA program. In 2011, he organized an international conference on the 150th anniversary of Italian unification. His activities have extended to collaboration with other organizations in Boston. In 1999, he was instrumental in organizing, in collaboration with the American Jewish Committee, a conference on Italian rescue of Jews in France, Yugoslavia, and Greece at the John F. Kennedy Library. The conference drew about 800 attendees from both the Italian and Jewish communities and included the participation of the Consuls General of Italy and Israel and of Mayor Thomas Menino. Governor A. Paul Cellucci issued a Proclamation to commemorate the occasion that may be seen at the Dante Alighieri Society's headquarters with other awards that the Society has received. As President he has established cooperation between the Dante and Boston cultural organizations such as the Boston Early Music Festival and the Coolidge Corner Theatre.
Download Di Scala's curriculum vitae.