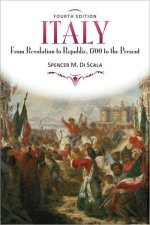 Italy: From Revolution to Republic, 1700 to the Present, 4th ed. (Westview, 2009)
Di Scala had been teaching the course on Modern Italy for a number of years, and was always dissatisfied by the books available for students taking the course. He also believed that modern Italian history was frequently viewed in isolation and without much regard to the European or wider Italian contexts. As these feelings became stronger, he decided to write his own book on the history of Italy-one that covered a long time period, was wide-ranging, and could be easily read by students and the general public. This book was a selection of the History Book Club and has gone into four editions.
As Di Scala conceived it, this book fills a serious gap in the field by synthesizing modern Italian history and placing it in a fully European context. It examines contemporary Italy's economic, social, and cultural development while providing a picture of how ordinary Italians live. It emphasizes globalization, the country's transformation from a land of emigration to one of immigration, and Italy's growing cultural importance in the contemporary era. The work examines the role of women and gives ample attention to the Italian South. The book also analyzes the growing phenomenon of immigration. There are biographical sketches of important characters in each chapter. The book includes a long, annotated bibliographical essay that provides a thorough examination of the latest and most important contemporary scholarship on Italy.
Praise for Italy: From Revolution to Republic
"This is simply the best history of modern Italy. Students regularly praise it in my course evaluations. Spencer Di Scala's prose is crisp, his scope comprehensive, his analysis lucid, and his judgment wise. The book's special strengths are political, social, and cultural history, international context, and a rich bibliographical essay for further studies. A masterful work by a master historian and teacher." —John Alcorn, Trinity College
"Spencer Di Scala's book is a comprehensive, balanced, and accessible survey of three centuries of Italian history, placed in a larger European context. With helpful maps, pithy biographies and an unmatched bibliographical essay, it is perhaps the best introductory text for students and stimulating for scholars as well. From the Enlightenment to the phenomenon that is Silvio Berlusconi, updated to address Italy's most pressing contemporary problems and paradoxes, it is an indispensable work." —Stanislao G. Pugliese, Hofstra University
"That Spencer Di Scala's survey of the last three hundred years of Italian history has reached a third edition stands as a testament to its value…. Di Scala enjoys a well-deserved reputation as one of America's foremost students of Italy with a particular emphasis on its Socialist tradition. Italy from Revolution to Republic is a very readable work that has now been enhanced by improved graphics and a collection of short biographical sketches, or "portraits," of illustrative figures over the past three centuries." —Roy Domenico, Italica, June 2006